Fórsa members' news bulletin
Health & Welfare
Thursday 10th May 2018
Fórsa pays tribute to Tony Mitchell
Activist remembered for his warmth, humour and generosity of spirit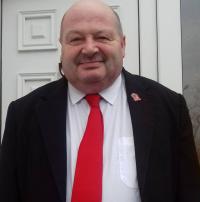 Tony received a guard of honour from a large number of his Fórsa colleagues from the Dublin Care Services branch alongside activists, officers and staff from across the union.
Mourners filled the parish church of Kilcoole, County Wicklow, at the end of April to bid farewell to Fórsa activist Tony Mitchell. Friends and colleagues gathered to celebrate the man remembered for his warmth, humour and generosity of spirit.

Tony was a social care worker at St. John of Gods for 28 years and was chair of the Dublin Care Services branch of Fórsa. Tony also served on the Health & Welfare divisional executive, and had recently taken up the chair of the social care workers' vocational group.

Tony received a guard of honour from a large number of his Fórsa colleagues from the Dublin Care Services branch alongside activists, officers and staff from across the union.

All aspects of Tony's work, life, trade union and community activism were represented. Clients and staff of St. John of Gods were in attendance, while additional music was provided by the Newtownmountkennedy male voice choir of which Tony was a member.
Tony was remembered with a minute's silence at Fórsa's National Executive meeting yesterday (Wednesday).
Maura Cahalan, Cathaoirleach of Fórsa's Health & Welfare division, said "Tony was a staunch and unwavering union representative, who ensured members were supported locally and nationally. He was a very compassionate person devoted to his clients and his co-workers. He will be remembered dearly."

Commitment

Fórsa official Una Faulkner recalled being struck by Tony's obvious commitment to his work, his unfaltering sense of social justice and potential for leadership. "He joined the branch executive in November 2012, and was elected chair of one of the largest branches in the health division just a few months later.

"Tony went above and beyond the call of duty for the members at St John of Gods. He frequently visited members in many of the other employments in the branch in Dublin, Wicklow and Kildare. He forged strong bonds and encouraged new members to get involved, mentoring them through industrial relation matters in their employments," she said.

Mentor

Tony's branch colleague, campaigns officer Roland Kennedy, is quick to credit Tony as his mentor as well as being a great friend over the last 17 years.

"Tony brought me in to the branch committee in 2007. We first met in 2001 during a dispute. I'd only been in my new job for a couple of weeks, and we got to know each other on the picket line. We became very close, we'd speak on the phone a few times every day. I always admired him.

"His priority at all times was making sure our members in St John of Gods were looked after, no matter where they worked, achieving what was fair and what was right. He was a true gentleman, and we shared friendship, unity and companionship, all the values inherent in trade unionism.

"Tony placed a great value on being personable, there was always time for a cup of tea and a chat with someone, even if the sparks were flying over some industrial relations issue. He knew how to do diplomacy, and he combined that strength - that essential fire in the belly - with real human warmth.

"He was very proud of being chair of the branch, and took as much pride in a trip to the Labour Court or a visit to the Fórsa head office to look after union business. It meant everything to him," he said.

Support

Organiser Keivan Jackson highlighted the support Tony gave him as branch chair. "He always made the effort to come to the office, offering his help with anything I was working on, he was so supportive. He was a great man for a laugh and would often share an amusing bit of news about himself with a cheeky grin. I'll miss those visits."

Fórsa official Ian McDonnell said it quickly became apparent to him that Tony would be a key resource in assisting him when he became the union official for the Dublin Care Services branch two years ago.

"He was very knowledgeable and always available when I needed help. We also developed a personal rapport and friendship due to his openness and positive outlook on life. I will miss him and, like everyone else, I'll continue to feel his loss," he said.

Mischievous fun

Catherine Keogh's first branch assignment as an official was with the Dublin Care Services branch. She was immediately taken with Tony's mischievous sense of fun and the two became firm friends.

"You could be sitting in a very difficult meeting and have the misfortune - or good fortune - to catch the glint in Tony's eye. You'd immediately get the joke, and that was his way of letting you know everything was going to be grand.

"He was decent and compassionate. So kind, so good, and above all so positive, he really brought out the best in us," she recalls.

Vital

Fórsa's Lynn Coffey worked with Tony as part of the union's Social Care National Vocational Group. "Tony loved his profession and had a great belief that social care work is vital, helping people who are vulnerable. This year Tony became chairperson of the vocational group, demonstrating more of his selfless nature and giving more of his time to the group.

"He was chairperson for nearly a year but he has been a great friend and colleague to all who sat on the committee over the past number of years. Tony will be greatly missed by his colleagues in the group," she said.

Ar dheis Dé do raibh a anam