Fórsa members' news bulletin
Education
Tuesday 22nd January 2019
Get travel insurance discount!
Fórsa has used its bargaining strength to negotiate a special discount on travel insurance through KennCo, which offers the union's members annual multi-trip cover for just €59. The same price applies for individuals, couples or families of Fórsa members.
Get a secure quote here.
If you're thinking of taking a holiday, consider purchasing your travel insurance through KennCo who have been providing cover to members since 2012. You can have peace of mind for you and your family knowing that you are covered by our annual multi-trip travel insurance.
KennCo travel insurance has a range of great features and benefits including:
365-day medical assistance
Medical and emergency expenses
Cancellation and curtailment
Lost baggage
Public liability
Missed departure
Personal accident
Winter sports and scuba diving included
Worldwide and European cover
Get a secure quote here.
The importance of travel insurance
You wouldn't drive your car without motor insurance or leave your home uninsured, so why risk travelling without the necessary cover? Travel insurance is a necessity and should be part of your travel checklist when taking that well deserved break. Passports, tickets, money, insurance!
Why annual multi-trip?
It can be tempting to take out cover each time you take a trip but this can be timely and costly. Plus you run the risk of forgetting to get cover at all. One annual multi-trip policy will cover all trips. Whether you like to follow football or rugby, the odd weekend in a European city, a winter break, a summer holiday, or you take a trip around Ireland with at least one night's pre-booked accommodation, then annual multi-trip is the right choice.
Cancellation cover
It's important to have cancellation cover in place once you have booked your trip, if not before. Remember, it's not just about when you're on the way to the airport, once you've booked your flight or accommodation, you need insurance in place in case you can't make the trip.
Be confident in your level of cover
KennCo underwriting provides a comprehensive worldwide annual multi-trip product that is competitively priced. This policy covers not only Fórsa members, but also their spouses, partners and unmarried dependent children under 18 years or under 23 years if in full time education. This policy automatically covers everywhere in the world.
Looking for single trip insurance?
You may be planning on having just one single trip this year, but it is still important to have travel insurance. Whether it's a business meeting or a family holiday, situations may occur where you're left wishing that you had taken out cover. With prices starting at just €11.22, you can get cover for lost baggage, medical cover or missed departures to name a few.
Don't forget to purchase travel insurance as soon as you book that trip to avail of cancellation should you be unable to travel.
Terms and conditions apply.
For further information and quotes on our travel product why not give us a call on 01-499-4607 or visit our website.
This information is also available on the Fórsa website.
KennCo Underwriting Ltd T/A KennCo Insurance is regulated by The Central Bank of Ireland. KennCo Underwriting Ltd is a tied agent for Travel Insurance with ERV T/A ETI-International Travel Protection.

Fórsa demands fairness for school secretaries
Union says majority of school secretaries are treated "like second class employees"
"When I retire I won't have an occupational pension, meaning my current income will almost halve. I'm concerned that if I become ill I'd find it nearly impossible to pay the healthcare costs associated with that." – Kathleen O'Doherty, school secretary (pictured, speaking at the launch of the campaign in Dublin last Thursday, 17th January).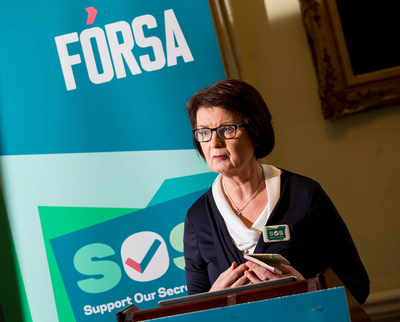 Fórsa has launched a campaign seeking fair treatment for school secretaries. The union said that the current pay model in place for the vast majority of school secretaries means that they are being treated like second class employees by the Government.
The campaign, Support Our Secretaries, is seeking respect and fair conditions for all school secretaries, and has the backing of the primary school teacher's union, the INTO, whose general secretary Sheila Nunan addressed the campaign launch in Dublin last Thursday (17th January).
The campaign is also backed by the two main secondary teachers' unions, the ASTI and TUI.
Majority
Fórsa lead organiser Joe O'Connor said the union estimates that 90 per cent of school secretaries are paid through their school's ancillary grant – leaving some with salaries as low as €12,000 a year.
"There are approximately 3,500 school secretaries working in our education system. Roughly ten per cent of those are paid directly by the Department of Education and Skills, on salaries varying between €24,000 and €44,711 a year.
"The rest - the vast majority - are subject to a system which means their pay is determined by individual school boards of management. This has led, in the most extreme cases we've encountered, to school secretaries earning as little as €12,700, with no entitlement to benefits such as sick pay or pension rights," he said.
The two-tier secretarial pay system was created almost 40 years ago. School secretaries employed before 1982 were employed directly by the Department of Education. In some schools the union has found secretaries working side by side under the two different payment models.
Joe said: "There are school secretaries who have served their community for 20 or 30 years but who will retire into poverty without any occupational pension at all."
Unsustainable
Fórsa's senior general secretary designate Kevin Callinan said the time had come to address the issue. "The fundamental lack of respect is unjust, impractical and unsustainable.
"The time has come to end this arbitrary, unfair and unjust system. Fórsa is calling on the Department of Education and Skills to implement measures to treat all school secretaries with fairness and respect," he said.
Kevin said school secretaries should be provided with the same basic entitlements and protections equivalent to clerical staff on public service pay scales. He said this would reflect the workload and responsibilities taken on by every school secretary in the country.
Strategy
Fórsa has also addressed the issue in its December 2018 submission on the Department of Education and Skills strategy statement for 2019-2021. Incoming head of education Andy Pike said: "There are clear benefits in seeking to recognise the contribution made by school secretaries to the success of schools and students. They provide a vital link between schools and local communities and are the first point of contact for parents raising issues and seeking information from their school.
"Fórsa has suggested that the new strategy statement should commit the Government to regularising the employment status of school secretaries by establishing the ETB (Education and Training Board) school secretary salary scale as the common salary scale for all school secretaries, with access to comparable pension provision," he said.
ETB school secretaries are paid directly by the department.
Lobbying
The Fórsa campaign will lobby TDs and Senators to back a new payment model for school secretaries. The union has been preparing for several months by engaging in talks with a wide range of public representatives.
The campaign includes information packs which will be sent out to all school principals and school secretaries, seeking support for the campaign through an online petition, and the recruitment of more school secretaries to membership of the union.
Joe added: "The first and most important step of this campaign is for school secretaries to stand together. They are the key to everything that happens in our schools. The school secretary looks after every appointment, every schedule, every crisis, every teacher and every parent, every single day.
"They are commonly the longest serving, the most trusted and an indispensable member of staff. Yet they are also the most neglected under the current model of employment. This must change," he said.
SOS: Support Our Secretaries homepage
See also: The reality of life as a school secretary, a Twitter thread
Details of revised pay scales published
Pay scales have been updated on the Fórsa website to reflect the third income adjustment under the Public Service Stability Agreement (PSSA).
Pay scales have been updated on the Fórsa website to reflect the third income adjustment under the Public Service Stability Agreement (PSSA). The 1% adjustment, which came into effect on 1st January 2019, applies to civil and public servants who earn less than €30,000 a year.
Those earning over €30,000 will instead benefit from a reduced contribution to the 'additional superannuation contribution,' which replaced the so-called 'pension levy' under the PSSA.
Certain pension payment anomalies have also been addressed. For instance, workers no longer pay the additional contribution on unpensionable income, including unpensionable overtime payments. You can read more about this month's improvements under the PSSA here.
The Education Division salary scales have now been revised on the union's website, which also carries an updated summary of the full terms of the PSSA agreement.
Communications officer Niall Shanahan said a number of other new pages have also been added to the site in recent weeks, including details of Fórsa membership benefits, travel and subsistence rates and rights at work.
"Most recently we've added a Fórsa officers' page and material on the school secretaries' equality campaign," Niall said.
Minister for Education attends Fórsa SNA AGM
The Minister for Education and Skills, Joe McHugh, attended the Fórsa SNA Connaught/Ulster branch AGM on 12th January in Donegal Town.
The Minister for Education and Skills, Joe McHugh, attended the Fórsa SNA Connaught/Ulster AGM on 12th January in Donegal Town. The meeting, attended by special needs assistants (SNAs) from across the two provinces, highlighted some of the major issues that affect the working lives of our SNA members.

Assistant general secretary Seán Carabini noted members concerns about the NCSE review and the non-consultation of SNAs in the drafting process. He said the union had recently held a major engagement with SNAs on the review and now stands ready to engage with the Department of Education and Skills on the next phase.

Seán said that while the report recommends changing the SNA job title, no agreement has been reached on this and the title of SNA remains unchanged.

Fragmentation
Highlighting the serious issue of job fragmentation, he said: "Official figures show that there are some 14,876 SNAs employed in Ireland. This is, however, the number of posts rather than the number of people.

"Many of these posts are fragmented meaning that many SNAs cannot get access to full time work. This is a particular problem for obvious reasons, and the fragmentation trend is growing.

"The Government's Economic and Evaluation Service, in a 2016 report, noted that of all new SNA posts allocated between 2012 and 2015, a whopping 63% of them were not full time. Furthermore, this union regularly receives reports of SNAs having their hours reviewed downwards without warning.

Precarious
"This level of precariousness is very difficult as it impinges on the ability of an SNA to have financial confidence that their wage will not change. If 'frontloading' SNAs into schools addresses this problem, as is suggested by the NCSE, then we need to talk about it. SNAs want to play their part. They simply ask that the state plays its part and looks after SNAs."

Seán also called on the Government to allow SNAs to serve on school boards of management: "There would appear to be no legal barrier to SNAs serving on school boards of management, though it very rarely happens. This is largely because the governance manual for schools does not make it clear that SNAs are allowed to serve."

Seán advised Minister McHugh that the guidelines expire this year and new guidelines will have to be introduced. "We ask that the Department allow for SNAs to serve on boards of management of schools. In many cases, there are more SNAs than teaching staff in schools, yet the SNAs will not have a representative on the boards of management," he said.

Valued
Seán added that last year's political forum hosted by Fórsa, which included representatives from across the political spectrum, including representatives from the Government, indicated there was goodwill toward such a move. "We ask now that it be implemented as a clear signal to the education sector that SNAs are equal and respected members of school communities," he said.

The Minister told SNA's that it's his intention to ensure that SNAs must now be involved in consultations about their future.

He said: "As valued members of the education community, I want you to be sure that you have a voice in the upcoming deliberations. Change should involve full confidence. You have to be at the heart of any change."
Concern over parental leave delay
Fórsa has expressed concern over reports that the Government has withdrawn its support for new legislation to extend unpaid parental leave from 18 to 26 weeks per child.
Fórsa has expressed concern over reports that the Government has withdrawn its support for new legislation to extend unpaid parental leave from 18 to 26 weeks per child. The Parental Leave (Amendment) Bill 2017 would also extend the threshold for parental leave from eight years of age to 12.

Fórsa is writing to Senator Buttimer to urge him to use his influence as leader of the Seanad to ensure the Bill continues its legislative journey without further disruption.

Having already passed through all stages in the Dáil, the Bill was recently brought to Committee Stage in the Seanad. However, it was then withdrawn due to signals from Government that it may not continue to support its passage.

Fórsa senior general secretary designate Kevin Callinan said: "This came as a surprise because the Government had previously facilitated the Bill's progress without opposition. We have received a substantial amount of correspondence from concerned parents who have also been tracking the progress of this important Bill and expected to see it enacted into legislation as soon as possible."

The union believes this is one of many measures needed to achieve a better work and home life balance for Irish parents.

The Bill, which was initially introduced as a private members' Bill, has enjoyed cross-party and independent support up to this point.
TUDublin: Ireland's newest university
Ireland's newest university, Technological University Dublin (TUD or 'TUDublin') officially came into existence on 1st January 2019.
Ireland's newest university, Technological University Dublin (TUD or 'TUDublin') officially came into existence on 1st January 2019.

The university was formed by the merger of the Dublin, Tallaght and Blanchardstown institutes of technology.

Fórsa represents large numbers of staff in TUD and institutes of technology, and extended the union's good wishes to all involved in the new university.

In an interview in the latest edition of Fórsa magazine senior general secretary designate Kevin Callinan said the new university marks a very significant change within the higher education sector, and Fórsa members have been deeply engaged with the process to create the new universities.

"Following quite quickly from the establishment of the new university in Dublin we'll see the creation of the Munster technological university, and one for the South East with Carlow and Waterford institutes of technology, and the possibility of a Connacht/Ulster alliance of Letterkenny, Sligo and Galway/Mayo institutes shortly after.

"I think it should enable the sector to argue for a greater share of state funding for the technology part of the higher education sector. We're affiliated to the Coalition for Public Funding for Higher Education, along with other unions and the USI, and there is a need to push the debate forward on funding higher education this year.

"The opportunities that will emerge from the tech university sector, in terms of research, development and innovation could be significant for the Irish economy, provided there's good leadership," he said.

The latest edition of Fórsa magazine is available in your workplace. Alternatively, you can download a copy here.
Department challenged on strategy
Fórsa has called for a clear timetable to complete the reorganisation of the county's education and training boards (ETBs), saying that failure to complete the programme four years after new structures were established is sowing "uncertainty over the future direction of local services."
Fórsa has called for a clear timetable to complete the reorganisation of the county's education and training boards (ETBs), saying that failure to complete the programme four years after new structures were established is sowing "uncertainty over the future direction of local services."

In its submission on the education department's 2019-2021 strategy statement, the union also calls for accelerated recruitment of educational psychologists to meet the department's target of 238 'whole-time equivalents' (WTEs). It says there are currently only 181 WTEs in the National Educational Psychologist Service (NEPS), and that just eight psychologists have been appointed since 2016.

Fórsa's submission also sets down practical proposals to deal with gender pay equality in higher education. The union calls for a full pay audit in each institution in the sector, and says a job evaluation scheme is needed to ensure that pay structures are gender neutral.

It also addresses school secretaries' pay and proposed changes to the SNA scheme, saying that the department is falling down on consultation over school pilots.

"Due to the complex nature of the suggested changes, Fórsa suggests that a forum – involving the NCSE, the department of Education and Skills and the HSE – be established to discuss this new model and issues like the education framework for proposed new inclusion specialists," it says.

Read the submission here.
Disadvantaged students disadvantaged again
Changes to the leaving certificate grading system have negatively impacted on students experiencing educational disadvantage – those who attend DEIS schools – according to a new report from the Economic and Social Research Institute (ESRI).
Changes to the leaving certificate grading system have negatively impacted on students experiencing educational disadvantage – those who attend DEIS schools – according to a new report from the Economic and Social Research Institute (ESRI).
The early impact of the revised Leaving Certificate grading scheme on student perceptions and behaviour examines the impact of leaving cert grading changes on behaviour, exam performance and perceptions among students.
Speaking on RTÉ's Morning Ireland, one of the report's authors, Professor Emer Smyth, said students "feel that no matter how well they do, or how hard they work, there's a limit to the grades and the points that they can achieve." She also added that the issue was particularly acute in mathematics.
Fórsa's incoming head of education Andy Pike acknowledged that more students were taking up higher level courses. "Although greater take up of higher level is one of the aims of the 2017 changes, it's having a negative impact on the overall results of students from DEIS schools, and has not seen a commensurate improvement in attainment," he said.
Andy added that there was a need for action on the recommendations of the report. "Improved guidance and communication on what level students should take subjects in, particularly within smaller schools, and a greater emphasis on guidance counselling are important moving forward," he said.
You can find more information here.
Fórsa responds as nursing strike looms
Fórsa's Health and Welfare Division is advising health staff not to undertake work normally done by nurses if the nursing strike goes ahead from 30th January as expected.
Fórsa's Health and Welfare Division is advising health staff not to undertake work normally done by nurses if the nursing strike goes ahead from 30th January as expected. This follows a standard request from the Irish Nurses and Midwives Organisation (INMO), which reflected the usual practice when industrial action takes place in a multi-union sector.

Fórsa has also reiterated its strong view that all civil and public servants, and their unions, must be treated equally under the Public Service Stability Agreement (PSSA), which was backed by a large majority of unions – including the INMO – in 2017.

Specifically, Fórsa has warned of pressure for further pay claims in the health sector and elsewhere if some groups of workers are granted pay benefits beyond those set out in the PSSA.

In a note circulated to Fórsa staff last week, the union said the benefits due to members under the PSSA – including pay measures, improvements for so-called 'new entrants,' and potential measures to address recruitment and retention issues – are likely to be jeopardized if a union fails to abide by its terms.

"Fórsa is on record to say that it, therefore, expects all the parties to the agreement – including employers and other unions – to abide by the terms of the deal in the same way," it said.

The note also said that post-PSSA pay arrangements should, at the appropriate time, "be negotiated collectively to ensure that any resources available for improvements in pay and working conditions are allocated fairly among all grades and professions."

On foot of observations made by the Public Service Pay Commission in its 2018 report on nurses and consultants, Fórsa says there is merit in developing arrangements to "allow for the adequacy of current pay arrangements more generally to be fully examined."

The commission said this should be done "at an appropriate time, and without compromising the stability of the public service pay bill."

Under the PSSA, the Public Service Pay Commission (PSPC) has been charged with examining recruitment and retention issues in a number of civil and public service grades and professions, which were named in the commission's 2017 report on public service pay issues.

Fórsa fought for, and welcomed, this provision in the agreement. But it says all professions and grades must be treated equally by the Government in its response to pay commission findings.

Last November, the union called on the PSPC to press on with examinations of recruitment and retention difficulties in the health professions, social care and elsewhere – including the civil service – now that it has concluded its work on nurses and hospital doctors.

The union has pointed out that the PSPC's 2017 report found that staff retention problems were more acute in the health and social care professions than in nursing, and it has given the PSPC evidence of growing recruitment problems in parts of the civil service.
Next senior general secretary appointed
Fórsa's elected National Executive Committee (NEC) has appointed Kevin Callinan as the union's senior general secretary designate with effect from 1st January 2019.
Fórsa's elected National Executive Committee (NEC) has appointed Kevin Callinan as the union's senior general secretary designate with effect from 1st January 2019.

In line with the transition agreement, which was backed by a substantial majority of members in the three unions that amalgamated to create the new union last year, this confirms that Kevin will become senior general secretary when the position becomes vacant later this year.

Shay Cody currently holds the position of senior general secretary, while Eoin Ronayne is general secretary (organisation and development). Former general secretary (public service) Tom Geraghty left the union when he was appointed deputy chair of the Labour Court last autumn.

Since then, Derek Mullen has been appointed as head of the union's Civil Service Division.

Kevin was formerly the union's deputy general secretary (DGS). Under the new union's agreed transitional arrangements, he was designated to become Fórsa's senior general secretary when the position became vacant.

Kevin currently has responsibility for the union's 12,000-strong Education Division, as well as the union's extensive organising programme.

He was formerly IMPACT's deputy general secretary and, before that, he was the union's national secretary for Health and Welfare. During his career has also worked with branches in the civil service and local authorities.

Kevin is currently a vice-president of the Irish Congress of Trade Unions (ICTU) and a member of the European Federation of Public Service Unions' executive council.

SNA contract issues
2018 archive
Since April 2018 we've been publishing a special segment focussing on contract issues facing SNAs. Devised and written by assistant general secretary Seán Carabini, It has proved to be one of the most popular items in the Education news bulletin.
We've archived all of these items for ease of access, and will publish an updated archive in each future edition of the bulletin.
If you have SNA contract issues you'd like to see covered in the bulletin, please contact us here. Please include 'SNA contract issues for the news bulletin' in the subject heading.
Union advocates for early years pay

Fórsa is set to attend a meeting of the Early Years Advisory Group on 31st January to advocate for improved pay and conditions for its members working in the sector. The union will seek implementation of the Mercer recommendations and discussions on professionalisation.
The advisory group was established to advise government on the rollout of the early years strategy, which was published last year.
Fórsa organiser Katie Morgan said the publication of the early years strategy was the first step towards the professionalisation of the sector, but that there is a long way to go.
"Fórsa welcomes this formal opportunity to advocate on behalf of our members working in the sector. Members have been calling on this for years, and we will be using this opportunity to reiterate our calls for the professionalisation of the sector," she said.
Fórsa participated in consultations on the early years strategy and the Mercer recommendations on pay for early years workers. The Mercer report, which was commissioned by the National Childhood Network, calls for significantly increased investment from Government to improve pay in the sector.
It also calls for a sectoral employment agreement (SEO) as a priority, to develop an agreed minimum starting point on proposed salary scales for early years roles, as a transitional arrangement.
Fórsa backs plastic promise

Fórsa has welcomed the announcement of a ban on the use of single use plastics and other pollutants in the civil and public service, and says it will work with Government departments to implement the new policy.
The move follows last week's Government decision that state departments, public bodies and schools are to stop buying single-use plastic cups, cutlery and straws, except where specific hygiene or safety issues arise.
Climate change minister Richard Bruton also ordered government departments to develop 'resource efficiency action plans' by the end of June to "help staff make savings in energy and water use, as well as preventing food waste and maximising recycling."
Bruton also promised that new environmental national public procurement policy proposals would be finalised by the end of March. And he said all public bodies would be required to report on measures to minimise waste and maximise recycling by November.
A Fórsa spokesperson said the union fully supported the objective of a just transition to a carbon-free Ireland.
"We welcome any initiative aimed at improving the State's so-far lamentable response to the challenges of climate change. We look forward to working with Government departments and state agencies to develop and implement the practical measures needed to eliminate single-use plastics and other pollutants, cut waste, and improve environmental sustainability more generally across the civil and public services," they said.
Minister Bruton said the Government was implementing the measures ahead of expected EU rules that will target the ten most prevalent single-use plastic products found on Europe's beaches and seas. Together with lost and abandoned fishing gear, these account for 70% of all marine litter.
The proposal includes a ban on certain single use plastic products such as plastic straws, cutlery, cotton buds and balloon sticks.
Fórsa welcomes revised law on pension age

Fórsa has welcomed new legislation allowing public servants to retire up to the age of 70.
The legislation completed its passage through the Seanad in December and became effective as soon as it was signed into law by President Michael D Higgins on 26th December.

The new legislation avoids more staff suffering a huge gap in retirement income when forced to leave work a year before they reach the new state pension age of 66.
Fórsa had previously expressed concerns that the legislation could be delayed into 2019, which would have meant public servants who turned 65 during the Christmas break would be forced to retire.
Effective
However an amendment, to remove the requirement for a commencement order to bring the provisions of the Bill into effect, meant that the Bill became effective as soon as it was signed by the President.
The Government bowed to union pressure last year and agreed to legislate to give civil and public servants the option to retire at any age between 65 and 70 if they choose.

This was necessary because many civil and public servants depend on the state pension for a substantial part of their retirement income. The issue has had a massive impact on the individuals who were caught offside by the previous legal requirement to retire at age 65 or, in some cases, before.
Circular
Fórsa further requested that the Department of Public Expenditure and Reform issue a circular to public service employers to advise on how the legislation would affect public servants approaching the age of 65 as the legislation took effect.
Interim measures, which allowed them to be re-hired until age 66, are unpopular as they treat staff as if they were newly employed. This also means a significant drop in income, even though they are still working.
The ICTU Public Services Committee has written to the Minister for Public Expenditure and Reform seeking to address the position of the 450 staff who retired and were re-employed on 12 month contracts while the legislation was working its way through the Oireachtas.
Unions welcome zero-hour ban

Fórsa has welcomed the introduction of legislation which bans zero-hour contracts in virtually all circumstances. The Employment (Miscellaneous Provisions) Act, 2018, passed through both houses of the Oireachtas in December and was signed into law on Christmas day.
Fórsa's head of communications Bernard Harbor said the bill provided a welcome step forward for the protection of workers' rights.
"Unions campaigned hard for these reforms, which will ensure that workers' hours are more predictable and secure. However, the urgent need for greater protection for workers in so-called gig economy 'platforms' still has to be addressed," he said.
The legislation, which comes into force in March, includes provisions on minimum payments for employees called in and sent home again without work. It also requires employers to give workers basic terms of employment within five days.
The bill includes provisions on 'banded' hours, requiring employers to place those whose employment contracts don't reflect their regular working patterns in a band that reflects the hours they worked over a 12-month period.
Exceptions, which allow for the use of zero-hour contracts, are limited to genuine casual employment situations and short-term cover for absences and emergency situations.
Unions mark 'forgotten' centenary

Trade unionists will this week mark the anniversary of the 1919 Belfast engineers' strike, which labour historian Padraig Yeates says laid the basis for the 39-hour week.

An event at ICTU's Belfast office will acknowledge the dispute, which involved 40,000 workers and saw another 20,000 laid off. It will also launch the 'centenaries and citizenship' project, an initiative of the Fellowship of Messines Association.

Padraig says the strike was the start of a wave of industrial unrest across the United Kingdom and Ireland, which saw the length of the working week reduced by an average of 6.5 hours a week. "This was the largest cut ever achieved and it laid the basis for our current 39-hour week," he said.

Late last year, Fórsa again placed the spotlight on working time when the union called for a move towards a four-day week to reflect advances in technology and work organisation.

Padraig says the 1919 strike has been largely ignored in this 'decade of centenaries.' "It may lack the drama and controversy that surrounds its more famous historical counterparts, but arguably it has had a far greater and more beneficial impact on all our lives," he said.
Union subs ceiling raised

The ceiling for Fórsa subscriptions has been raised from €370 to €380 with effect from 1st January 2019. The cost of union membership is set as a percentage of gross pay up to the ceiling, which ensures a limit to the amount that members are asked to pay.
This table sets out the cost of membership for members with various different gross salaries.
At its December meeting, and in accordance with the union's rules, Fórsa's elected National Executive Committee (NEC) decided to make the change to take account of pay adjustments introduced and due under the Public Service Stability Agreement (PSSA). These include the anticipated adjustment of 1.75% due to civil and public servants later this year.
On top of negotiated pay increases and protection when things go wrong at work, union members can benefit from an improved range of membership entitlements introduced when Fórsa was formed just over a year ago.
These include €5,000 in personal accident cover or €5,000 critical illness cover or death benefit, which also is also available to spouses of Fórsa members.
Alternatively, €5,000 in illness benefit is available to members who are out of work for more than 12 months. And Fórsa also covers evacuation or repatriation expenses up to the value of €250,000 for members who become seriously ill or injured, or who die, while abroad.
That's on top of a range of financial benefits, negotiated with external providers, which can mean big savings on financial products like car and home insurance, pension benefits, salary protection and life cover.
Fórsa members can also avail of free counselling, legal advice and support helplines, 24 hours a day, 7 days a week, 365 days a year. And they can opt into our group scheme, which gives them access to huge savings on a wide range of everyday items and services including restaurants, retailers, hairdressers and coffee shops.
Get full details about membership benefits here.
Find out how much your Fórsa subscription is here.
Fórsa publishes lobbying records

Fórsa has submitted the union's first set of returns to the Lobby Register for 2019. The returns cover the period from 1st September to 31st December 2018.
Since the introduction of the Regulation of Lobbying Act in 2015, lobbying organisations are required to publish their returns no later than 21 days after the end of the relevant reporting period.
Fórsa submitted 10 returns for the most recent reporting period. The deadline for submissions for this period expired this week (21st January).
The latest lobbying returns submitted by Fórsa cover the following matters:
Failure to submit a return of lobbying activities carried out during the period by the deadline is a contravention of the Regulation of Lobbying Act.
Current enforcement provisions give the Standards in Public Office Commission the authority to investigate and prosecute contraventions of the Act and to levy fixed payment notices for late filing of lobbying returns.
Fórsa members who undertake lobbying activity are not required to make a return unless they are lobbying under instruction from their union, such as in the event of a 'grassroots' campaign. For example, the union's Support our Secretaries campaign included an instruction to all school secretary members to contact their local constituency public representatives seeking support of the campaign.
All lobbying activity undertaken by Fórsa staff is reportable, apart from activity classified as 'excepted communications' under the legislation.
For more details about the legislation and the register, visit the Lobbying.ie website.
Workplace fatalities hit all-time low

The number of people who died in workplace related accidents fell by 23% last year, according to a report issued by the Health and Safety Authority (HSA) earlier this month.

Even so, 37 people lost their lives in workplaces in 2018 – 10 fewer than in 2017. This is the lowest figure since the establishment of the HSA in 1989.

Agriculture continues to be the most dangerous industry to work in, with 15 farming fatalities in 2018. Although this figure is down 40% on last year, it still accounted for 41% of overall workplace fatalities in 2018.

Construction was also flagged as a hazardous workplace, with five deaths occurring in the sector. The HSA said it would prioritise agriculture and construction in 2019.

HSA chief executive Sharon McGuinness acknowledged the efforts of employers, employees and stakeholders in the improved figures. "There has been a huge improvement in health and safety standards. However, with 37 people losing their lives in work related activity in 2018 there is clearly still more to be done," she said.

Fórsa official and health and safety representative Dessie Robinson welcomed the report and said a change in health and safety culture was one of the main contributing factors in the noticeable reduction in workplace fatalities.

"It's great to see the emergence of a health and safety culture in the workplace," he said. "It's important that we encourage this and keep it at the forefront of employers' and employees' minds. Improved practices and increased awareness will continue to keep workers safe and the number of fatalities low."

For more information on health and safety in the workplace click here.