Fórsa members' news bulletin
Education
Tuesday 10th April 2018
Talking to the next generation of workers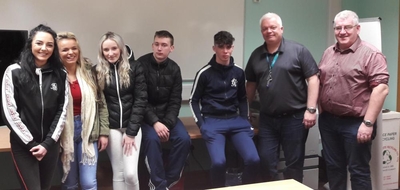 I met a group of teenagers from Youthreach, Ballinrobe this week to talk about the role of trade unions in the workplace. Youthreach aims to enable students to develop core skills needed for further learning, and to prepare them for further education, training or employment.
Class teacher Pat Collum explained to me that the students attending Youthreach may have left school early without any qualifications. The main aim is to provide students with an opportunity to develop new skills. Pat explained to me that it's vitally important that the students are aware of what will face them when they move into the workforce, knowing the role trade unions provide is just one of them.
One of the requirements during the training is to take part in work experience, and to learn about trade union activities. I also talked to the students about how employment contracts work, so that they can inform themselves of their employment rights and ensure that they are being treated fairly.
We talked about why becoming a member of a trade union is important, how we can provide better working conditions through negotiations, that there is strength in numbers and support for workers when they need it.
We'll be talking to more Youthreach participants again in the future.
Photo: Dave Sexton (second from right) with class teacher Pat Collum and the Youthreach students in Ballinrobe.