Fórsa members' news bulletin
Health & Welfare
Tuesday 6th March 2018
Fórsa acts on snow absence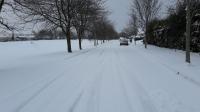 Photo by Shane Lambert.
Health workers won't be docked pay or leave if they had to miss work because of last week's extreme weather conditions. Following representations from Fórsa, health minister Simon Harris agreed that "anyone who can't get to work or whose workplace is closed will receive emergency leave with pay and will not have to make up time."
Fórsa is now seeking the same approach from all employers across the public, private and voluntary sectors.
The minister's intervention last Thursday followed confusion over mixed messages about how enforced leave would be treated by the HSE and other health employers.
Harris also paid tribute to health service staff who kept services open during the bad weather. "From across Ireland I have heard stories today of health care workers walking to work, staying past their shifts, sleeping in hospitals overnight, and going above and beyond the call of duty to ensure their patients get the care they need," he said.
Business groups Ibec and ISME urged their members to show flexibility to staff during the cold snap. The latter said employers could not legally force staff to take a leave day.
"The general rule-of-thumb, where an employer cancels work (or is forced to cancel work), is that the employer is liable to pay employees. You cannot force an employee to take a day's annual leave to cover this time. Legislation requires that, in order to force an employee to take a day's annual leave, you must provide them with one month's notice," it said.