Fórsa members' news bulletin
Health & Welfare
Wednesday 20th June 2018
Sligo branch pay tribute 'diamond' colleague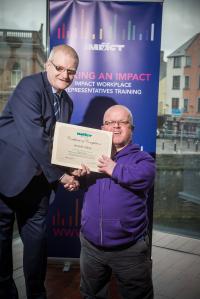 Gerry Gilroy (right) graduated from the IMPACT member activist training programme in February 2017. Gerry is pictured with IMPACT president and Sligo branch colleague Pat Fallon.
Fórsa's Sligo branch has paid tribute to Gerry Gilroy, secretary of the branch's health section, who died suddenly on Thursday 7th June.
Gerry, who hailed from Kilglass in County Sligo, was a very active member of the branch, and graduated from the union's member activist training programme in February 2017.
His participation in the training programme revealed his passion for trade unionism, as well as his commitment to working on behalf of his colleagues. His contributions in training were always thoughtful and insightful, and revealed a disarming positivity about facing the challenges of trade union work.
Assistant general secretary Richy Carrothers described Gerry as a dear friend and comrade. "Gerry was overjoyed to celebrate his recent marriage and our thoughts and solidarity are with his wife Hannah and entire family circle. We'll miss him. Lots of people will miss him. A diamond," he said.
Gerry is survived by his beloved wife Hannah, brothers John, Eamon, Vincent, Raymond and Michael, sisters Mary, Annie, Dymphna and Sally, aunt Sarah, father-in-law Peter, mother-in-law Kim, brothers-in-law, sisters-in-law, nephews, nieces, grandnephews, grandnieces, relatives, neighbours and friends.
Ar dheis Dé go raibh a n-anam.