Fórsa members' news bulletin
Health & Welfare
Wednesday 10th July 2019
Government slammed over 'tip theft' law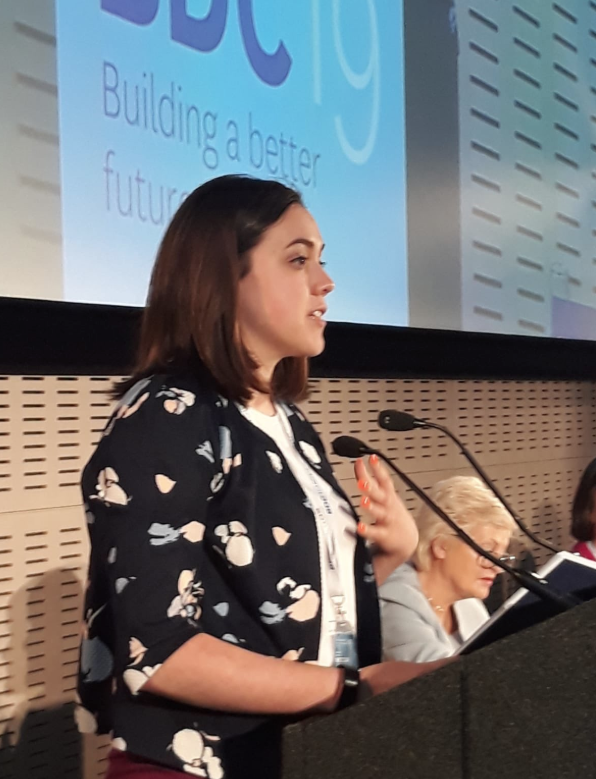 Fórsa Lead Organiser Grace Williams said the decision was unfair and out of step with the public mood.
The Government has been urged to reconsider its "shameful" decision to block new legislation that would oblige restauranteurs to pass on tips to their staff. Speaking at the biennial conference of the Irish Congress of Trade Unions (ICTU) in Dublin last week, Fórsa Lead Organiser Grace Williams said the decision was unfair and out of step with the public mood.
The National Minimum Wage (Protection of Employee Tips) Bill, completed its second stage in Dáil Éireann two weeks ago, and had already completed all stages in the Seanad.
But employment minister Regina Doherty said the Government would block the legislation, which would ban employers from withholding tips and other gratuities intended for staff, and oblige them to display their establishment's tipping distribution policy.
Speaking at the ICTU conference, Grace said: "The Government looks set to block the Bill in response to the demands of employers in the sector. If so, that's shameful and totally out of step with the public mood. When we give a tip to a waitress or waiter, it's because we want to reward them for the service they've given, not because we want to boost the profits of their bosses."
She was speaking on a motion that urged unions to intensify their efforts to work together at local level to attract young workers into unions and protect them against precarious work in emerging sectors and the gig economy.
She said the multi-union ONE Galway campaign against "tip theft" was an example of unions working together to achieve tangible results for young workers.

"The ONE Galway campaign gained national attention and achieved wide public and political support. It soon became the norm to ask hospitality workers in Galway, and across the country, whether they receive the tips they are given. This was done through active campaigning, local engagement, education, and organising together," she said.

ONE Galway last week dismissed the Government's approach to the Bill as being "in line with the demands from the Restaurant Association of Ireland (RAI) who want to retain access to tips, which they estimate make up approximately 10% of their revenue."
 
Proposing the Fórsa motion, Lead Organiser Katie Morgan said trade unions were building on existing links with student organisations to become more relevant to young workers.
"We need to strengthen our links with second and third level students by increasing our collaborative working with ISSU and USI so that in a society that promotes individualism, young workers understand the importance of collectivism. The trade union movement must ensure we are relevant to them," she said.