Fórsa members' news bulletin
Health & Welfare
Wednesday 24th July 2019
Naas hospital outreach welcomed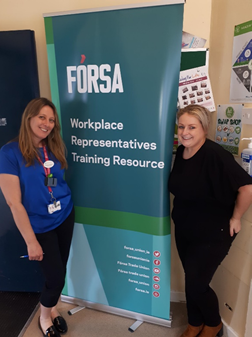 Branch activists Sharon O'Brien and Melissa Walsh at Fórsa's 'meet and greet' which took place in Naas general hospital last week.
Staff responded positively to Fórsa's first 'meet and greet' event at Naas general hospital last week, according to union official Eimear Ryan. Branch representatives spoke with a number of members and offered advice about specific concerns.

In a push to raise its visibility in the facility, the branch has secured a Fórsa notice board, which will appear outside the staff canteen next week. Eimear, who has been invited to address dieticians in the hospital, also said there was significant scope for recruitment among its 20 physiotherapists.

"It was a great opportunity to meet members and non-members and promote the work of the union. We see this as the first step in increasing our visibility and building our density in the hospital. We are also striving to building structures in the hospital and have identified members for our in-house committee, which will meet for the first time this month," said Eimear.