Fórsa members' news bulletin
Services & Enterprises
Wednesday 26th June 2019
Public services must lead climate response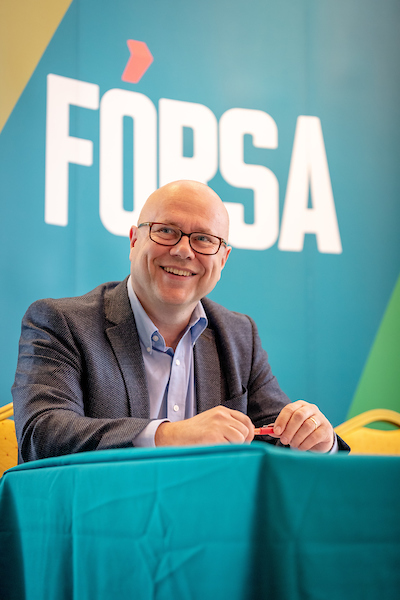 Speaking at the EPSU conference earlier this month, Kevin Callinan said that the private sector alone could not successfully confront "the single most catastrophic threat facing humanity."
Climate change is the biggest challenge facing public services, which will be at the centre of the national and international response to global warming in the coming years, according to Fórsa.
Speaking at an international congress of European trade unionists in Dublin earlier this month, Fórsa Senior General Secretary Designate Kevin Callinan said the private sector alone could not successfully confront "the single most catastrophic threat facing humanity."
"The public service must be at the centre of the national and international response to climate change. Of course there is an important role for private enterprise and innovation. And, as communities and individuals, we must adapt the way we eat, the way we shop, the ways we travel, how we use energy and water, the homes we live in, and the way we throw away our rubbish.
"But only the public sector – at a national and international level – has the resources, the scale of organisation, the infrastructure and the legislative and regulatory heft to meet this challenge head on in the fast-declining time available," he said.
Kevin was speaking at the opening of the tenth Congress of the European Federation of Public Service Unions (EPSU) at Dublin's RDS. Over 550 representatives of European trade unions, with a combined membership of over eight million, were meeting in Dublin at the five-yearly conference of Europe's largest trade union federation.
A week after Green parties recorded huge gains in many countries' European Parliamentary elections – and in Ireland's local elections – Kevin said that unions would become irrelevant to young people and others if they failed to prioritise climate change action.
"The industrial, technological, societal and political challenges of today have already weakened many long-established institutions, and rendered some irrelevant. Others, including trade unions, will go the same way if they fail to offer a strong and effective antidote to the challenges that workers, their families, and their communities face today. Trade unions will quickly lose any relevance they have for young people if we fail to put ourselves at the front of the fight for climate justice.
"Unions must go beyond the protection of the people we directly represent, to embrace and lead the imaginative policies and difficult actions needed to confront the single most catastrophic threat facing humanity. This is the primary challenge we face as trade unionists and as public servants. But it is also an opportunity to put collective action at the centre of our societies, along with public services and the people who deliver them," he said.
Kevin said the spirit of recent "inspirational" Global Climate Strikes – led and run by school children and college students – could also be harnessed to address the low-paid, casual and insecure employment that young people experience when they enter the modern workforce.
"In recent weeks we have had a planet-wide lesson in effective, organised collective action, in the form of the Global Climate Strikes. These same inspirational young people are experiencing, or facing into, low-paid, casual and insecure employment, which is incapable of meeting the rising costs of coming of age.
"And they live and work under the shadow of automation, with its capacity to make their precarious position even less certain. We need to adapt our organisations, and our priorities, in ways that convince them that trade unions – also rooted in organised, participative, collective democracy and action – are available and open to them in a changing world of work," he said.
In the week that US President Donald Trump visited Ireland, Kevin also pledged unions would combat populism and authoritarianism.
"Young workers also expect [trade unions] to use our strength and ingenuity in the face of a dangerous tide of racism, intolerance and authoritarianism; to confront the dishonest populists that have exploited inequality, poverty and insecurity in so many of our counties in recent times; and to insist that our national, European and international institutions adopt the interventions necessary to address the root-causes of discontent, and abandon the entrenched neo-liberal mind-set that feeds it," he said.