Fórsa members' special bulletin
14th November 2018
Future of working time: book now for last conference places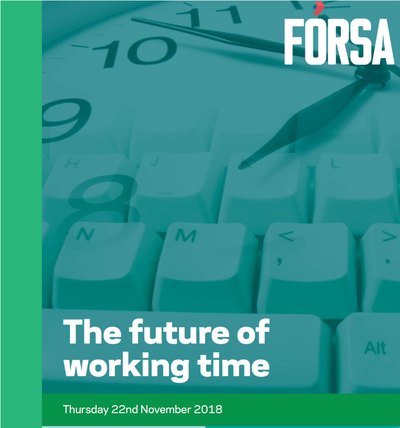 Fórsa members are being invited to apply to attend the union's conference on the future of working time, which takes place in its Nerney's Court office in Dublin next Thursday (22nd November). But places are limited so you should book now by contacting rnolan@forsa.ie.

Organised on foot of the large number of motions about working time, which were submitted to the union's national conference last May, the event brings together senior trade unionists and working time experts from Ireland, Germany and the UK.

Fórsa's deputy general secretary Kevin Callinan is among the keynote speakers, and the conference will also hear from Kate Bell of the UK Trade Union Congress, which earlier this year called for the introduction of a four-day week to ensure that workers benefit from automation and other new technologies.

German union IG Metall, which has recently negotiated pay deals that reduce working time, will be represented by Conny Schoenhardt, and policy experts will address a diverse range of related issues including the future of work, work-life balance, productivity and the public health and the environmental aspects of working time.

A panel discussion will explore how Fórsa and other unions can win reductions in working time. The event concludes with a light lunch.

You can read the full conference brochure here. To book a place on a first-come-first-served basis, contact rnolan@forsa.ie