'Caring- At What Cost?' campaign newsletter - May 2016
Dear Supporter,


Road Show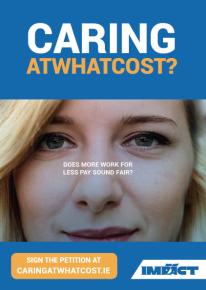 The 'Caring- At What Cost?' Road Show of regional meetings is underway, as we spoke to groups of community & voluntary sector workers about our research and campaign in Dublin on April 14th and Galway on May 5th.


We are in the process of planning further meetings in Carlow, Longford and Wicklow over the coming months. If you are interested in helping us to host a regional meeting in your area or in your workplace, then please let me know on joconnor@impact.ie

Programme For Government


We made significant efforts in advance of the general election to increase awareness of some of the issues facing workers in the sector. This was done through the grassroots petition campaign on the Caring- At What Cost? website, and also political lobbying on the recommendations of the Caring- At What Cost? report.


We are pleased at the inclusion of the following commitments in the Draft Programme for Government (due to be published this week), and will be working hard through this campaign to ensure these commitments are met and that the issue of pay restoration for workers in the sector is addressed as part of that. Now that a new Government has been formed, we intend to step up our efforts in this regard.
'We will increase funding to support the sector and develop a funding model that focuses on quality, effectiveness and efficiency.'
'We will produce a coherent policy framework and develop a strategy to support the community and voluntary sector and encourage a cooperative approach between public bodies and the community and voluntary sector.'
'We will ensure that all commissioning for human, social and community services takes place in a societal value framework (targeted at maximizing the value for society).'
Ten steps you can take to help the campaign

Ten steps you can take to help the campaign

Personal  Stories

If you wish to share your own personal story as to how you have been impacted by recent cutbacks in the sector and what pay restoration would mean to you, please contact me on joconnor@impact.ie

This would be hosted on our campaign website and social media accounts, and can be made completely anonymous if that is your wish. It is a really effective way of getting our message out there so any help in this regard would be greatly appreciated.
Best Regards,


Joe O'Connor,
Organiser,
National Projects,
IMPACT Trade Union
You can access the campaign website here

You can read the Executive Summary of the Caring- At What Cost? report here