'Caring- At What Cost?' campaign newsletter
Dear Supporter,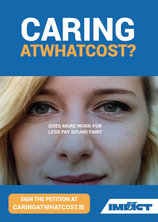 Thank you for signing the petition to support our IMPACT 'Caring - At What Cost?' campaign on pay restoration for community & voluntary sector workers, and for subscribing to our newsletter.


We are contacting you to update you on the campaign, and also to tell you about the first of a series of Road Show regional meetings, which is taking place this week.


In the lead in to the general election, almost 500 people signed our online petition, and awareness of this issue amongst public representatives across the country was enhanced significantly through our grassroots TD contact campaign. Our website has now been updated to reflect the outcome of General Election 2016.


This followed the September 2015 publication of a University of Limerick report of the same name, which was commissioned by IMPACT.


We will now be running a Road Show with a series of meetings and presentations across the country, to update IMPACT members in the sector about the campaign so far, what we are doing now, and what we plan to do, and how you can get involved and help make the campaign a success.


We can only succeed in making pay restoration a reality for our members in this sector by working together to put pressure on decision-makers and funders.


The first of these meetings will be held in Dublin in the offices of IMPACT Trade Union, Nerney's Court, Dublin 1 this Thursday, April 14th at 6.30pm.


If you are available and wish to attend this meeting can you please notify Joe O'Connor, IMPACT Organiser for National Projects, on joconnor@impact.ie

Thanks again for your support and we look forward to working with you on this campaign.
Best Regards,


Joe O'Connor,
Organiser,
National Projects,
IMPACT Trade Union


You can access the campaign website here

You can read the Executive Summary of the Caring- At What Cost? report here